Spokane, Washington - "The Inland Empire" - 1978

In the dreary musical landscape of redneck country, beer swiggin' boogie and disco bars, just the basic concept of a band getting up on a stage and performing their own music was totally unheard of.
That lesson was learned the hard way when Sweet Madness was
unceremoniously boot-kicked from their first bar gig.

The seed was planted when lead singer/guitarist Jan Gregor and drummer Mark Fenton bonded in 1975, later joined by bassist Don Lynd. When keyboardist John Robison hooked in 1978, an original
rock band sprouted, proving that a weed can grow anywhere. Unfazed with harsh reality,
Sweet Madness pioneered the time-honored concept of "Do It Yourself" to create their own scene.
Any scene. Literally. DIY or die!

They threw rowdy parties, dances and staged unorthodox much-talked-about happenings: once performing outside on Spokane's main drag in minus 7 degree weather and backing up traffic
till the soundboard froze; another time hiring an "all-girl band" from Portland
and then appearing in drag themselves.

The band built up their own local audience of punks, wavers, artists, misfits and weirdos, inciting both avid love and extreme loathing. Local press at the time called the group "bizarre, arty, and satirical", "punk/new wave", "demented Boy Scouts" and "like something out of the Twilight Zone."

Here are the uncommon sounds of geographic and cultural isolation.

Sweet Madness broke up in 1981, barely even heard of outside of the "Inland Empire" . . .


Jan Gregor | guitar, vocals, harmonica
John Robison | Vox & Farfisa organs, electronic piano, vocals
Mark Fenton | drums, backing vocals
Don Lynd | bass, pedals, backing vocals



1980s Newspaper Movie Advertisements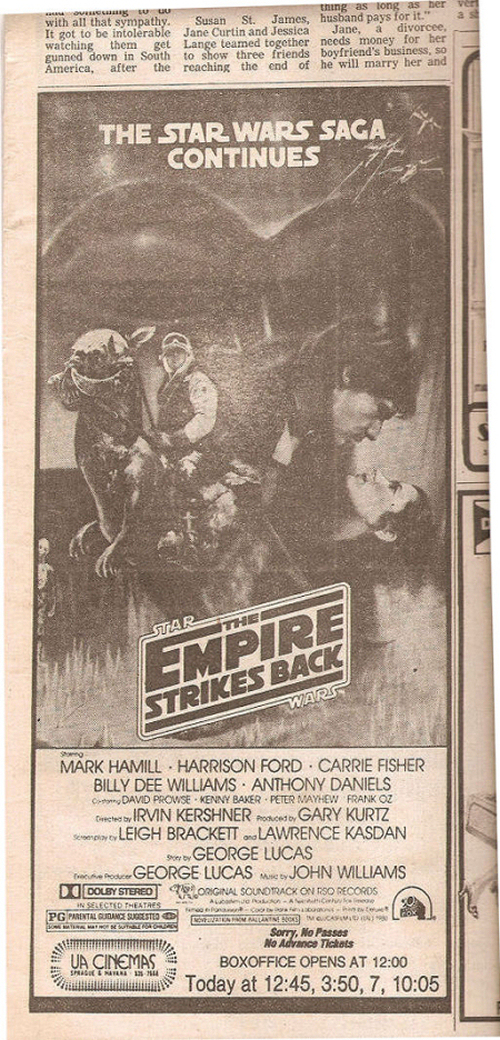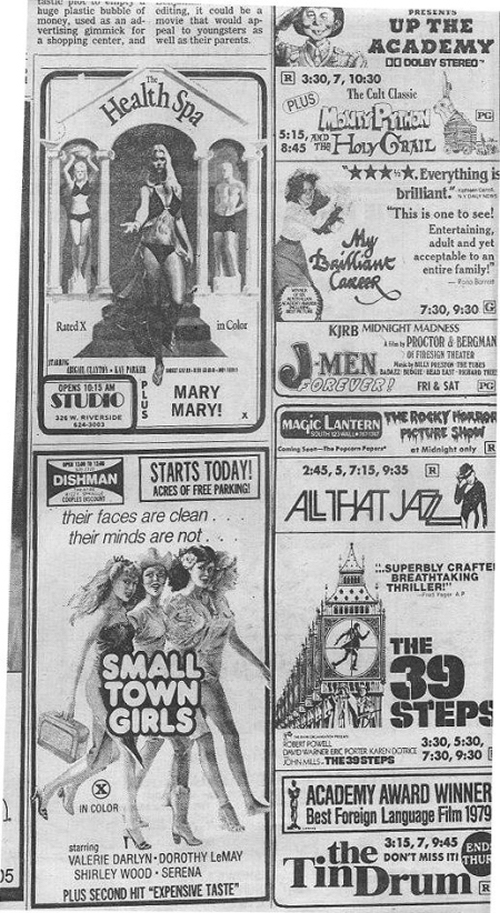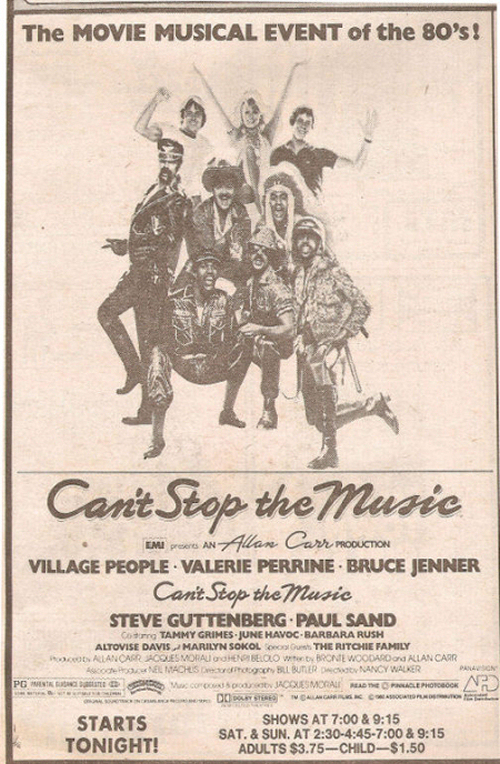 Press Clippings from 1980

"Spokane, Washington? Now isn't that where Van Halen imitation bands grow like the wheat
and are just as exciting? Well, almost right. But deep in the heart of Eastern Washington, there is
a band daring to go where no band from the area has gone before. . . that band is Sweet Madness."
-- The Seattle Rocket 1980

"Local clubs don't cater to Sweet Madness' music. In their only attempt at a regular engagement,
a downtown rock bar owner fired them on their first night."
-- Spokesman-Review 1980

"There was live imitation Led Zeppelin at the boogie bars, live imitation Kenny Rogers at the country clubs and disembodied Donna Summers at the downtown disco. Inside the Armoury, Sweet Madness was giving one of its medium-rare public performances, playing its own
utterly unique music in a town that seems determined to keep it that way . . .
Strange sounds for Spokane, that noise.
Gregor says he's aiming at an 'English style band' in terms of concept."
-- Spokesman-Review 1980

"Sweet Madness is generally recognized as having taken Spokane's first step into the new music.
As early as 1977 the band was playing Bowie, Springsteen, Lou Reed and Mott the Hoople covers . . . The band debuted in the spring of 1979 at an 'Anti-Boredom Rally'. Their performance was starkly aggressive. Their music was captivatingly original . . . Sweet Madness took the town by surprise.
Their initial performance was followed by a series of unorthodox performances, including one from the top of a stereo store on North Division and an outdoor performance in 7-below-zero weather."
-- Spokesman-Review July 12, 1981



From recent reviews of the indie documentary SpokAnarchy!:

The city's first punk/new wave band, Sweet Madness, was an excellent
"bizarre, arty, satirical" Jam-meets-Devo hybrid.
-- Permanent Records

. . . an unknown punk scene from a particular time that, until now, had not been
recognized in its whole and displayed for the outside world . . . .
(Sweet Madness has) a very Clash vibe to them with their catchy tune 'I Need Electricity.'
-- Razorcake

. . . created their own scene from nothing, almost by accident.
-- Pop Culture Z

Spokane was about as underground as it got back then . . .
-- Punk Vinyl

Even though Spokane is at least figuratively in my back yard, I had no idea that
there was such a cool punk scene going on there at the time.
-- Greg Barbrick Cinema Sentries

. . . Sweet Madness is the band that really started the whole scene in Spokane.
And I can see why, they have an infectious energy that makes me want to sing along.
-- Doublets blog of reviews

. . . Sweet Madness, in true DIY fashion were forced to create their own music scene from the
ground floor up; finding venues, putting on shows and thus inspiring others to do the same.
-- Gillian Gaar Examiner Seattle

. . . there is an area in Eastern Washington that flourished with great punk rock music and
existed virtually within itself . . . Sweet Madness and many more dedicated their time to
playing the music they loved and doing it completely on their own terms . . .
embodied the DIY spirit you expect to find from viable punk rock scene.
-- For the Love of Punk

. . . a genuine alternative music scene from the past.
-- John B. Moore Innocent Words

The scene stayed more insular than most due to the fact that the
punk bands that did go on tour never stopped in their town.
The Spokane scene continued to develop independently much longer than other scenes.
-- Carolyn Keddy Maximum RockNRoll

". . . a sparse community of freaks and fringe dwellers who'd heard of this thing called
'punk rock' found an opportunity to create their own brand of strangeness in an
eastern Washington city far removed from both the pulse of popular culture and the
underground musical networks curated in other, better-known parts of America.

"The story starts in 1978 with Sweet Madness, a new wave act revelatory to Spokane's youth.
Largely shut out of clubs that catered to cover bands, Sweet Madness pursued
alternative venues, drawing other bands in their wake and enabling a
punk scene that found resonance in a new breed of youth culture and
permanence in the pages of cut 'n' paste zine journalism.
-- Sean Caldwell Music Film Web

That the town's first punk band, Sweet Madness, was not particularly punk but rather an
arty new wave/post punk act seen in perfect vintage footage wearing space age mullets and
art-shirt uniforms, seems crucial. During the Black Flag/Dischord years where
cookie-cutter hardcore was defining regional scenes around the nation . . .
-- Rocktober Magazine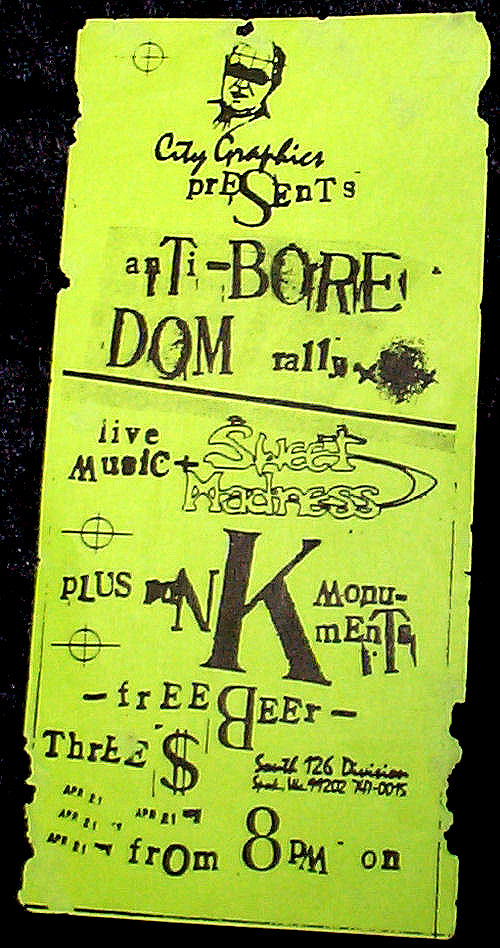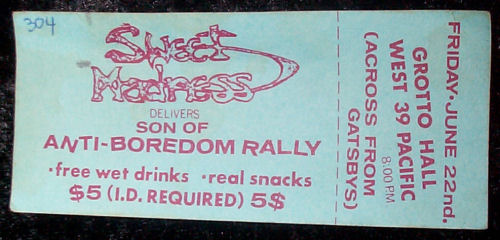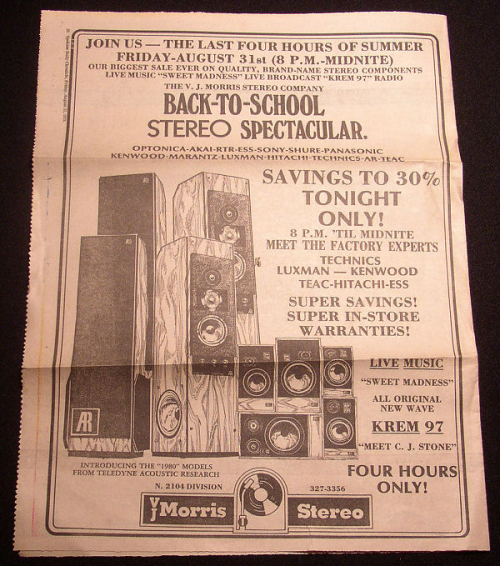 Sweet Madness performed live outside on Division Street in August of 1979.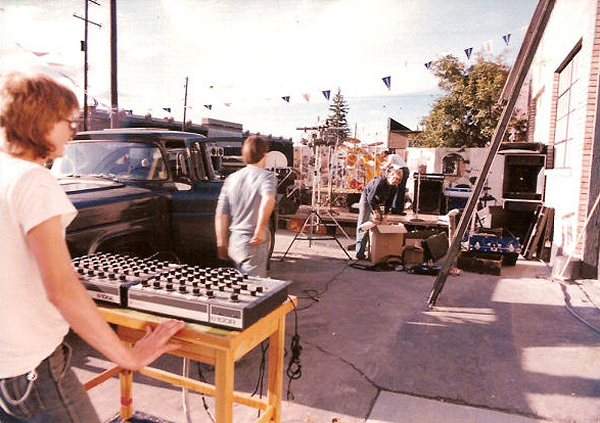 Setting up DIY!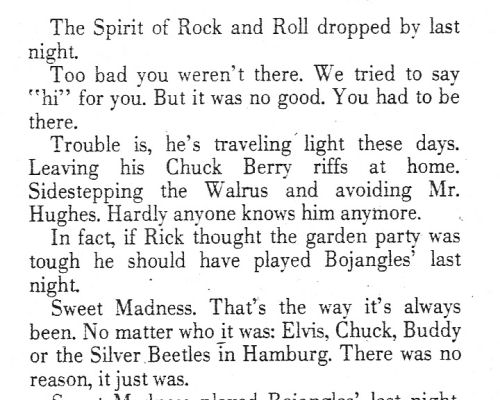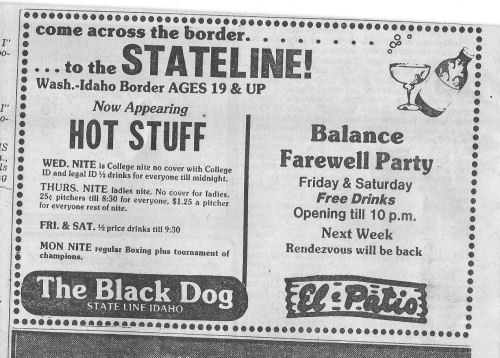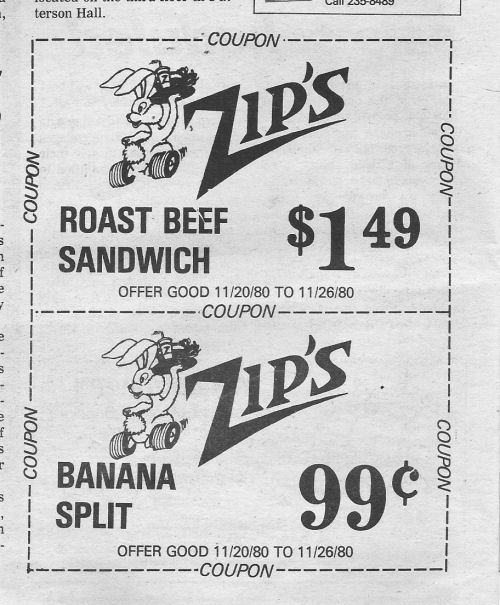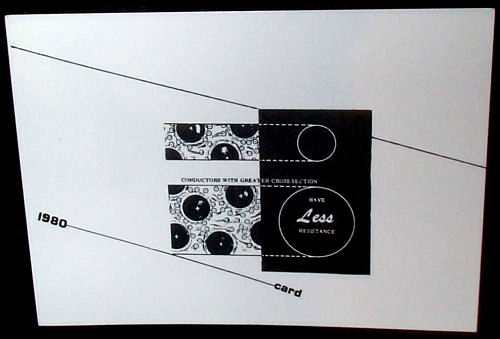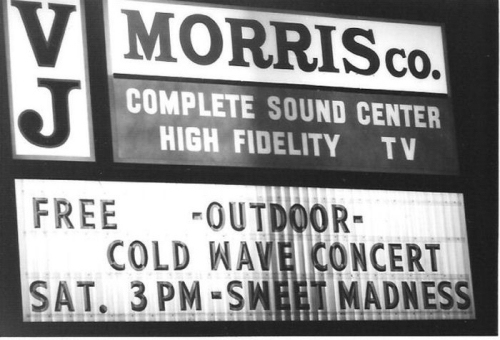 Sweet Madness returned to play outside on Division Street once again,
this time in the middle of winter!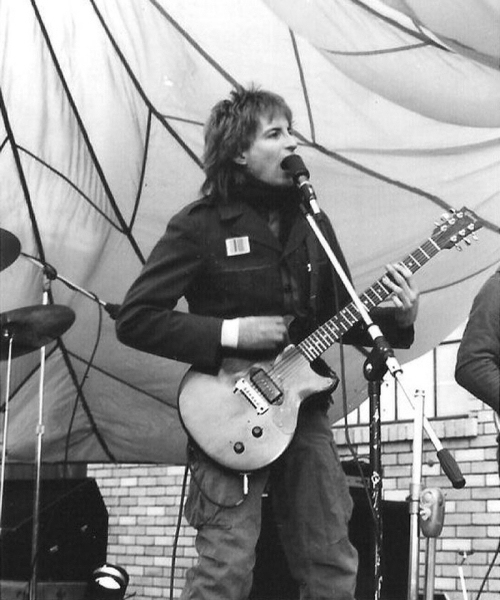 Note the gloves being worn on the right hands.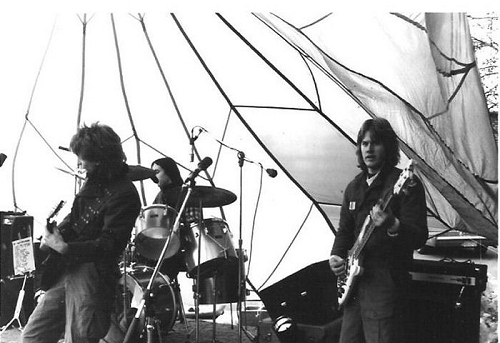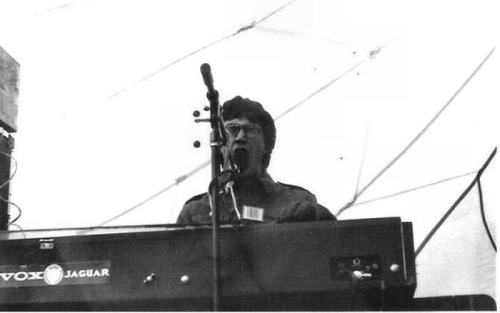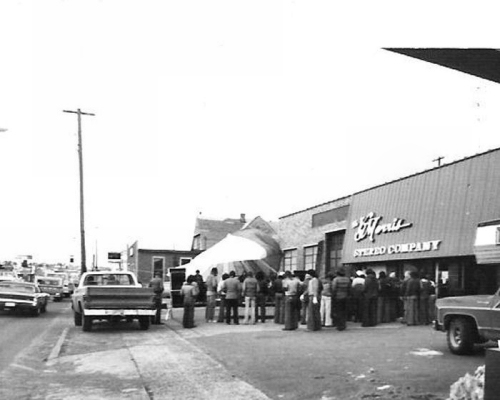 Some people hung out inside the store and others braved the -7 degree weather
outside for the "Cold Wave" concert. All went well till the soundboard froze up and
had to be taken inside and thawed out with a hair dryer.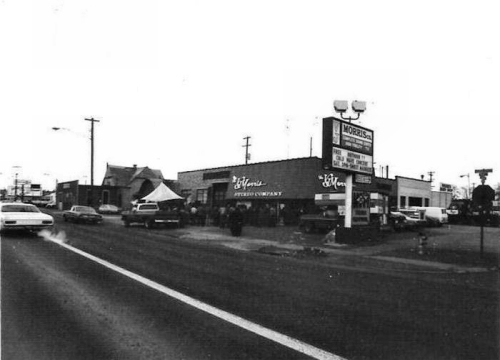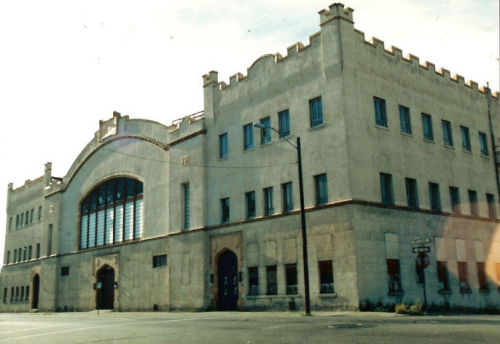 The Spokane Armoury became the downtown DIY home of Sweet Madness!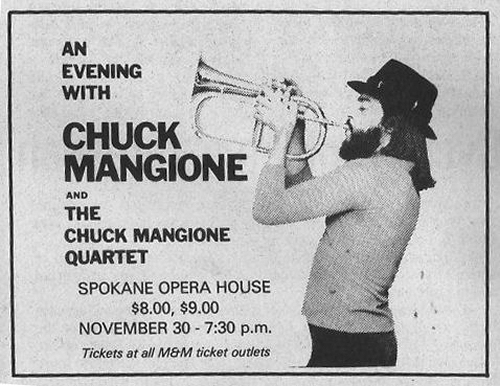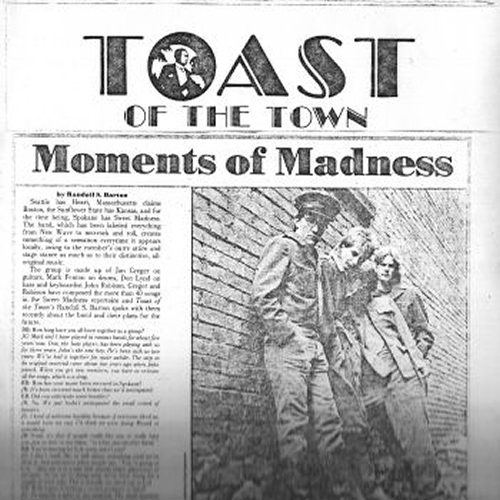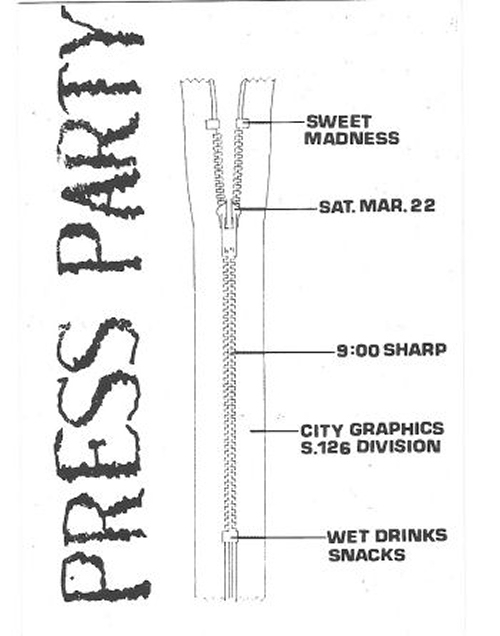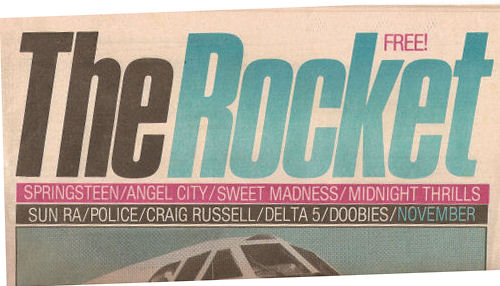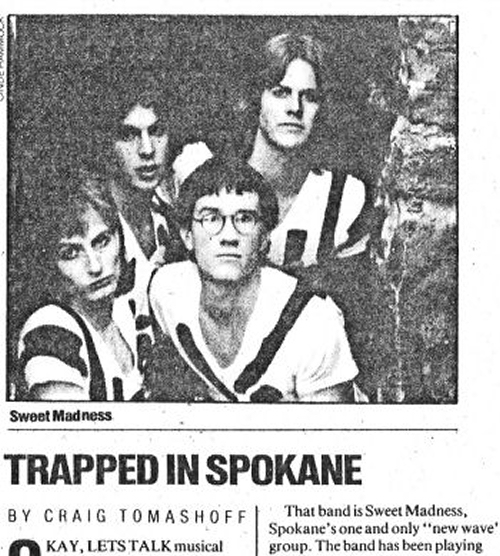 "Sweet Madness is possibly Spokane's only cultural attraction."
-- The Seattle Rocket, 1980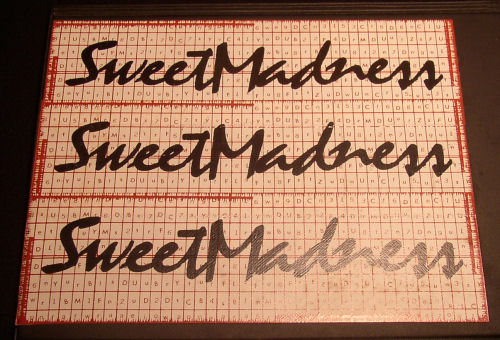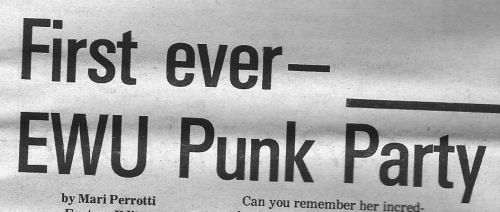 This might have been a tentative booking of Seattle's Blackouts.
Perhaps they were never confirmed and/or cancelled.
Whatever the case, Sweet Madness took the gig.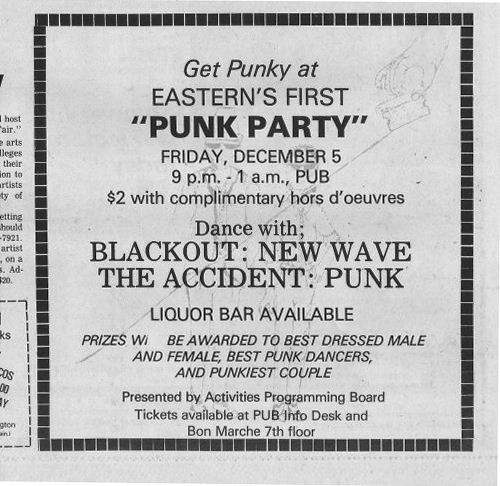 Hey, kids, punk has come to the Inland Empire!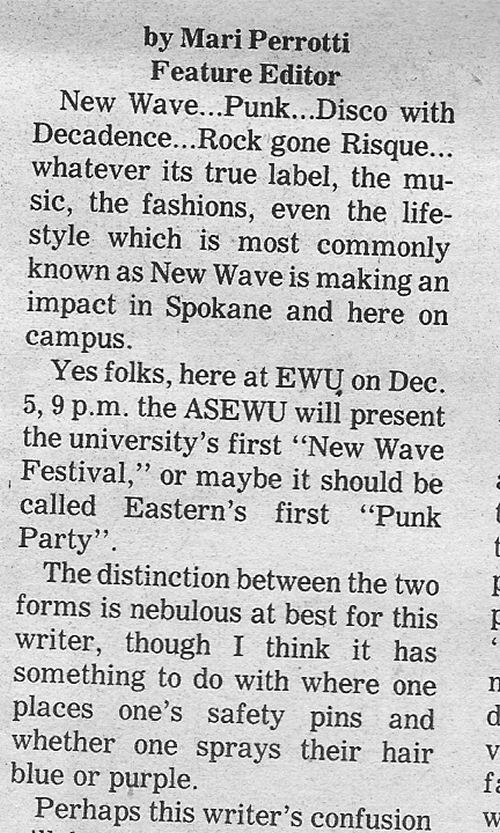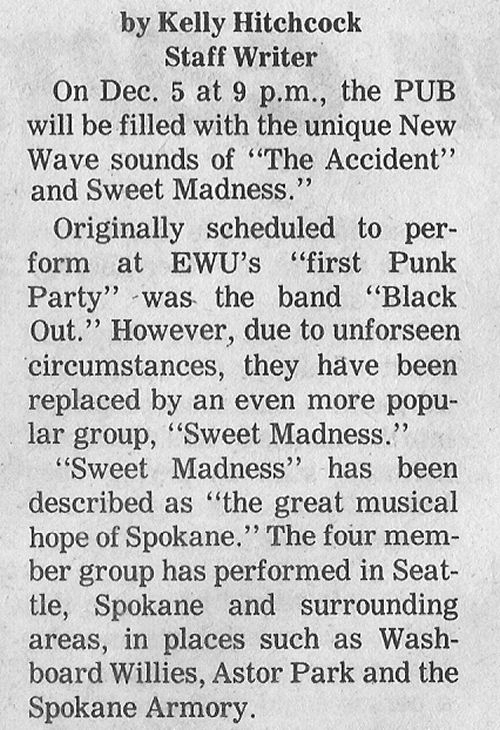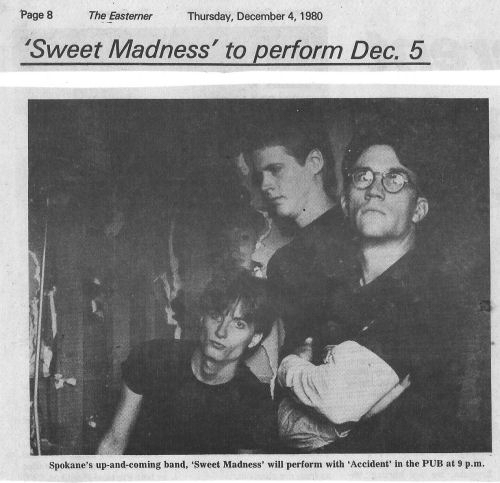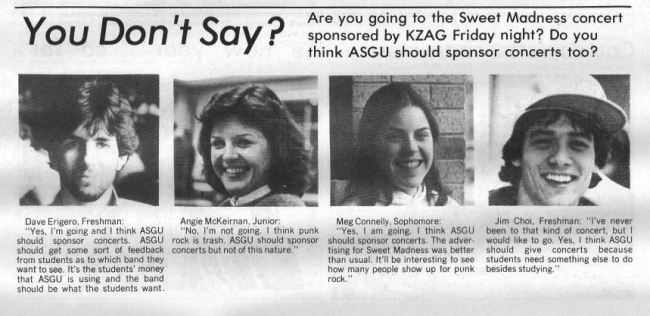 The movie landscape of the day.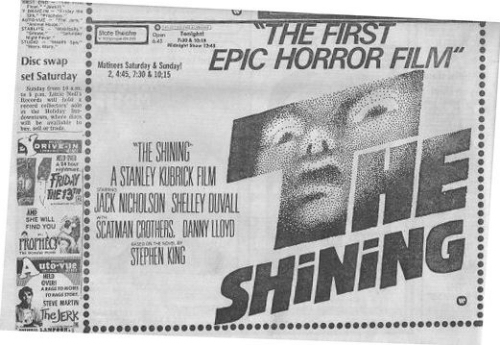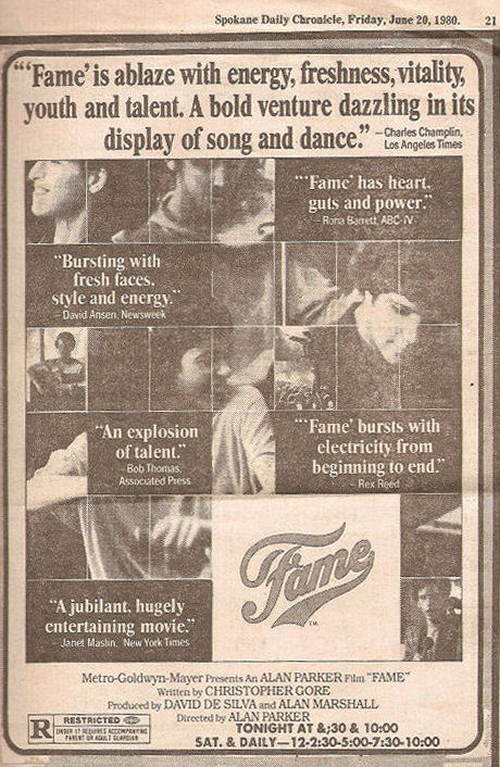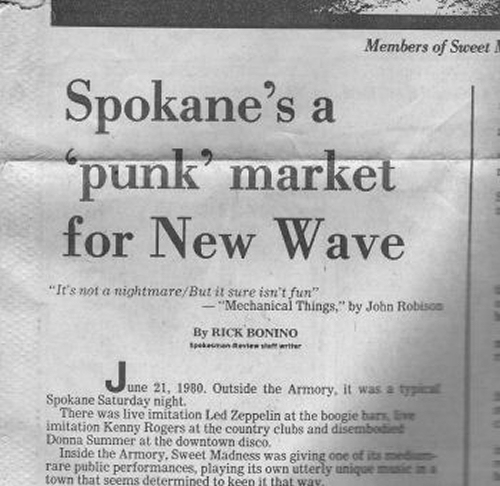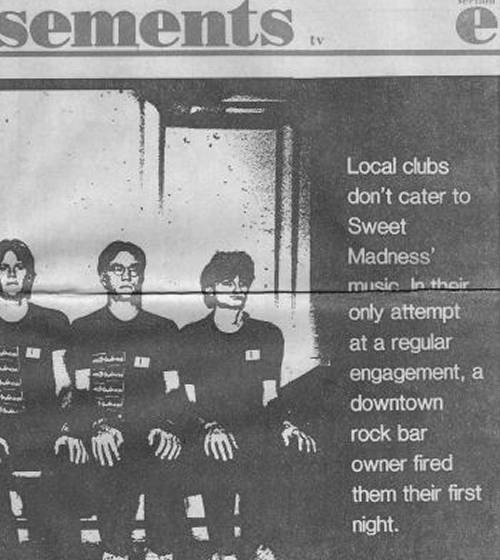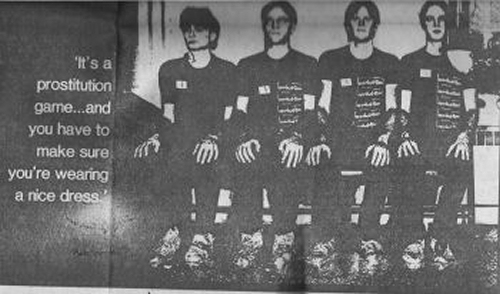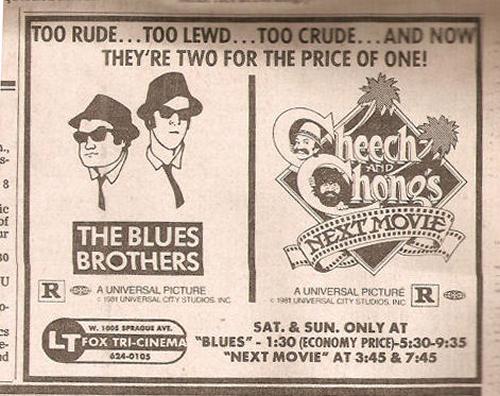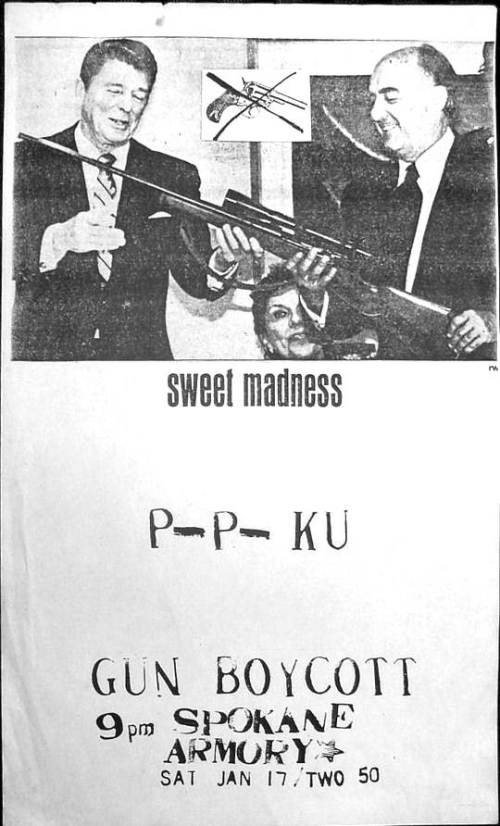 Following John Lennon's death, poster artist Rickio called a dance gig poster a "gun boycott".
The Sweet Madness PP-KU Spokane Armory was the idea that for the length of the dance, no one would be armed and all could feel safe for the night. The poster stirred up the president of the local NRA. Sweet Madness made
"hard news" and were threatened with cancellation of both the show and their use of the venue.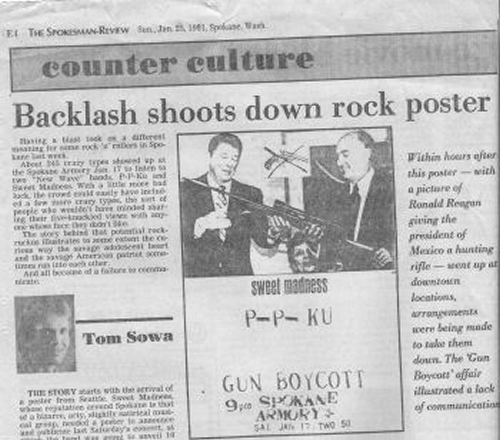 "The day of the concert, Sweet Madness showed up at 1 p.m. to do a soundcheck and to see if anything else was about to go wrong. They were half-certain the show wouldn't take place that evening.

"But nothing happened . . . . the equipment soundcheck took place as scheduled, and the band found itself wondering if paranoia had made the preceding 24 hours worse than they really were.

"That night, the concert happened as planned -- just a lot of people dressed weirdly, doing strange dance moves. After the first song, Gregor admits he relaxed, and the evening turned out to be fun.
Just another day in the life of a rock 'n' roll band, paying dues."
-- Spokesman-Review Jan 25, 1981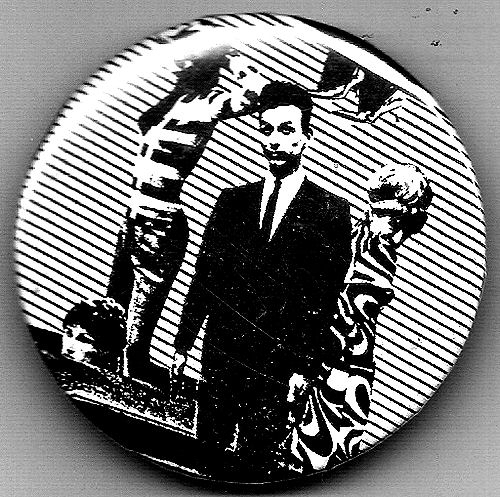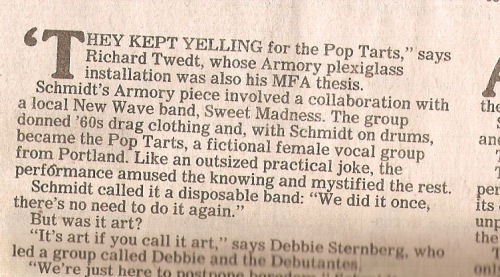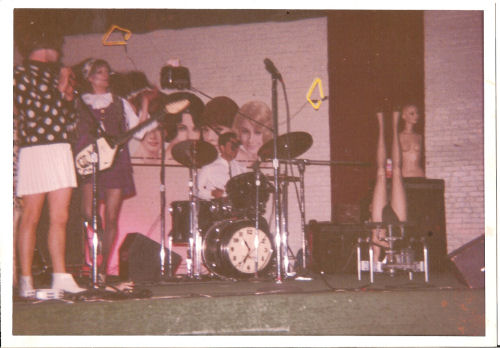 The Pop Tarts in their first and last appearance at the Spokane Armoury!
Who are these lovely ladies?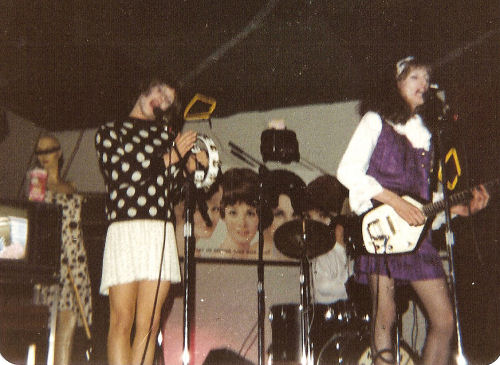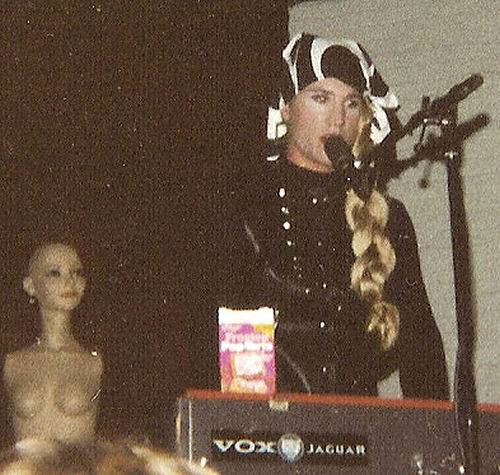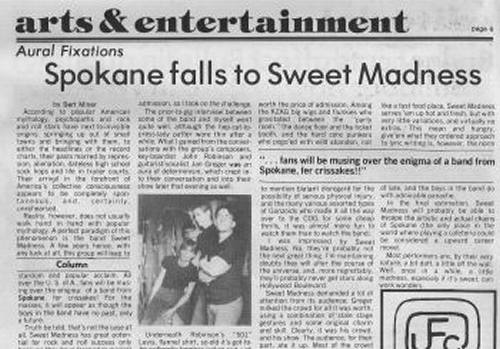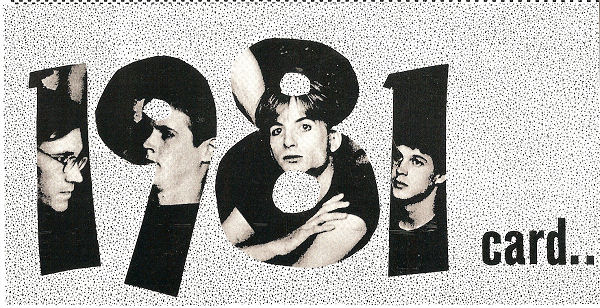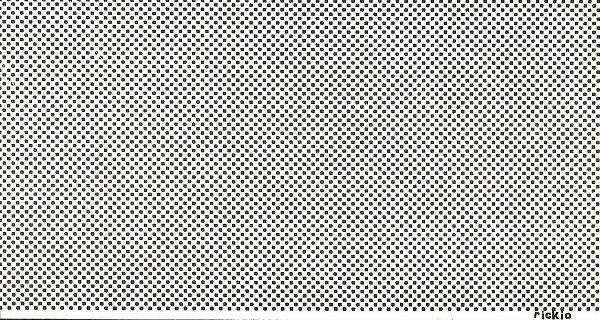 copyright 2017 sweet madness - all rights reserved